Banksy!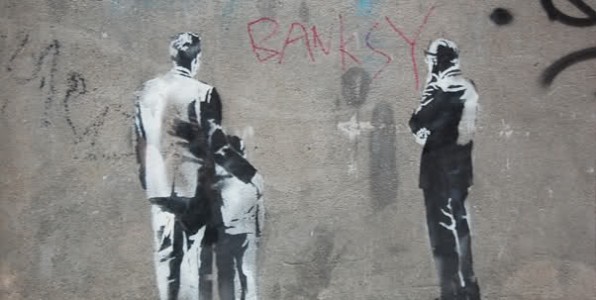 I heard Banksy is (was) in Toronto and have been keeping my ear to the ground to see how he leaves his mark.
After much sweaty searching and a tip-off that he had hit somewhere near the St. Laurence Market/Esplanade area, I came across this small two-tone stencil. The owner of the place has since framed it behind plexiglass lol.
I suggest you check out not only Banksy's work, but pay more attention to urban artwork in general. Sometimes they provide great social commentary. I usually walk through the backalleys whenever I can to see if any nice pieces have gone up in the night. I find it much more bearable to walk through an alleyway full of rough artwork than a crowded sidewalk plastered with sleek advertisements.
This Queen West mural is wonderful:
Trinity Bellwoods is in beautifully in bloom and full of artists and dog-walkers alike:
And got some great urban-decay textures from the alleyways near St. Laurence Market:
I am SO glad the summer weather is here and allowing me to escapade on my own. Its very relaxing to just wander without a set destination and come across new places and faces.