Under my Voodoo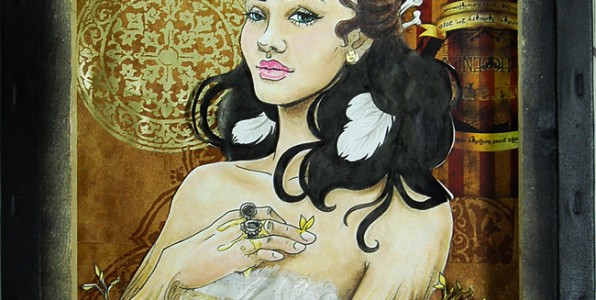 Inverted canvases are the best places to collage things.

This southern beauty started as an ink & marker illustration, but then I added pulp paper, acetate fabric, gold foil, scrap wallpaper and an old club promo card to make it tactile. The exposed canvas was spraypainted and the edges left raw. I was definitely inspired by my deep-south upbringing in this piece – specifically the creole culture.
The ring on her finger is an actual antique poison ring I found lodged in some red mud near the creek that ran through the old property in Georgia. These rings have come by many names depending on what they held inside; I have always assumed mine was used to carry toxins as the hing swings open on its own with no lock to keep it shut. It is stamped "1800s Mexico" and looks corroded inside the chamber. On the lid, could you see the top, are coils of silver around a polished amethyst. It has always been my favourite piece of jewellery.